First joint conference of Georgian Respiratory Association and Georgian Allergology and Clinical Immunology Association was held in Tskaltubo on 28 October 2004 at the National Institute of Allergology, Asthma and Clinical Immunology of Georgian Scientific Academy. More then 100 doctors from Imereti Region attended the conference.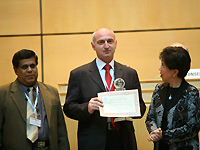 The Georgian Respiratory Association has awarded WHO United Arab Emirates Health Foundation Prize!


Every year at the World Health Assembly, tribute is paid to individuals and institutions who have accomplished outstanding innovative work in development of health.